Birgunj Metropolitan City is a metropolis located in Parsa District of Narayani Zone, Central Development Region of Nepal, Province No 2. It is 135km south of Kathmandu, which is connected to Raxaul in the north. During the tenure of Shri Teen Veer Shamsher Jung Bahadur Rana as the Prime Minister in 1942-1958 BS, the district headquarters was shifted from Alau in Parsa district to Gahawa. And the name of Gahawa village was named after him as Birgunj. Even today, you can see the Gahawamai Temple there.
Birgunj was declared as the metropolitan city in 2017, May 22. It is the most important trade and transit port of Nepal. From here, Nepal imports and exports to India and other countries. Besides importing goods for Chitwan, Kathmandu and Pokhara, it is also the main industrial corridor of the country. The area code of Birgunj is 051. This city is the largest city in Province no. 2 and the sixth mot populated metropolis in Nepal. Tribhuvan Highway connects Birgunj with Kathmandu, so one can enjoy the smooth driving.
History
It is estimated that Birgunj Bazaar was established between 1945 and 1950 by Shri Teen Veer Shamsher. Since, it was established by him, its name was changed to Birgunj. Before the establishment of Birgunj, the main center of Parsa district was Alau. Before the establishment of Birgunj Bazaar, the surrounding villages of Baghi, Alum, Barewa, Kalaiya, Prasani, Inaruwa, Chhapkaiya had come into existence. There was a small road from Kalaiya to Prasani, Inarwa village and then to Alu.
To establish the Birgunj Bazaar in the forested area, Shri Teen Bir Shamsher had appointed his confidants Siddhavir Mathema and Dhwajvir Mathema (two brothers) as the rulers of the wooden warehouse in Birgunj. In the same connection, Siddhavir Mathema distributed free land and timber and provided cash assistance to the house builders in Birgunj. Later, during the reign of Chandra Shamsher, Siddhavir Mathema had to face the death penalty, but he was saved by Queen of Shree Teen Veer Shamsher.
After the death of Veer Shamsher in 1957, Dev Shamsher became Maharaj. But Chandra Shamsher made a move and within three months he deposed Dev Shamsher and became Maharaja himself. Late. Siddhavir Mathema, a special person of Veer Shamsher, was accused of committing three lakh irregularities by Chandra Shamsher.
When Siddhavir showed the account of the expenditure incurred in setting up the Birgunj market, it was declared invalid, and an order was issued to pay the amount immediately. After Mathema replied that he could not pay the amount as he had not use it for personal benefits, a verbal verdict of death penalty was passed on him. After hearing the news that Mathema, who was working hard in the establishment of Birgunj Bazaar, had been sentenced to death, Queen of Bir Shamsher donated Rs. Three lakh and saved him.
Chandra Shamsher also wanted to displace the Birgunj Bazaar established by his brother. He wanted to remove the market of Birgunj from there and settle it in Hajminiya of Rautahat. To displace the market, the railway line was extended from Raxaul to Amalekhganj in 1980, crossing the main market of Birgunj. It was done with the purpose of bursting and exploding the houses and terrorizing the residents of Birgunj. But the people of Birgunj begged to move the railway market out, but he refused to go to Hajminiya. Later, the railway link was moved to the east of the market, and the Birgunj Bazaar was established fully after then.
Geographical Location
The industrial and commercial city of Birgunj, known as the economic capital and gateway of the country, was named after Rana Prime Minister Bir Shamsher in 1954 BS. Located at about three kilometers from Raxaul, a bordering market in the Champaran district of India, and in the southern Terai region of Nepal, the city is at an average elevation of 91 meters above sea level. It covers Bara district in the east and north, Ramgathwa, Parsainivirta and Sirsia Khatwatol VDCs in the west and Parsa in the south. It is 28 km from Pathalaiya, which connects Tribhuvan Highway and Mahendra Highway.
It is very close to Simara Airport in Birgunj, which is located 15 minutes from Kathmandu. Newar, Brahmin, Chhetri, Musalman, Tharu, Kurmi, Yadav, Kanu, Teli, Kalwar, Koiri, Chamar, Dusadh, Mallah, Marwadi, Tamang etc. have been living here mutual harmony. Birgunj is also the district headquarters of Parsa district.
Demographics
According to the National Census 2011, the city has a total population of 133,238. Being the headquarters of Parsa district, it is the second largest city in Terai region. Likewise, it is fifth largest city in Nepal, after Kathmandu, Pokhara, Biratnagar, and Lalitpur.Birgunj Metropolitan City is spread over 35 sq km and is divided into 19 wards. Moreover, most of the people here speak their own Bhojpuri native language. However, they possess the perfect speaking and understanding level of Nepali language. Besides Bhojpuri, other languages such as Maithali, Newari, Marwari, Hindi, English, Nepali etc. are also frequently spoken by the locals.
Climate
Located in the lower elevation, Birgunj metropolitan city has the sub-tropical climate. This climate is characterized by the hot and humid weather. So, the average temperature here ranges from 25 to 32 degree Celsius. During summer/monsoon, there is the huge rainfall, which gets up to 2800mm in maximum.
Culture
This metropolitan city has many Hindus, Buddhists, Muslims, Jains, and Christians who celebrate festivals like Dashain, Tihar, Chhath, Makar Sankranti, Ram Navami, Phagu, Krishna Janmasthami, Bhimsen Jatra, Shivaratri and Shri Panchami.
Tourism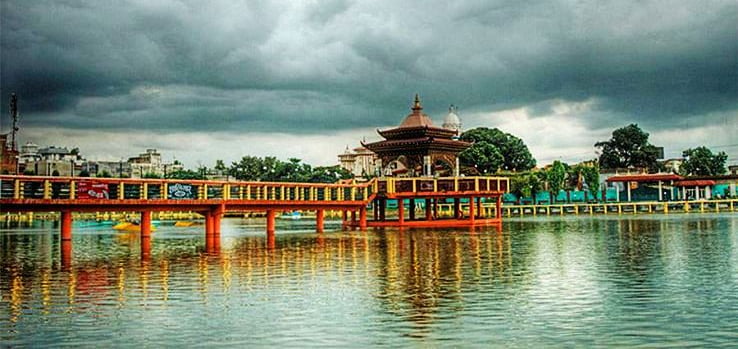 Shankaracharya Gate (Birgunj) is the entrance point of Nepal. So, not only Nepalese but Indian also visit this city. There are many tourism sites in this city. Ghadiarwa Pokhari is one of the popular holy sites in Birgunj, which is decorated like bride during Chhath festival. Here, you can enjoy the boating and musical fountain. Besides this, you can also explore the Vishwa Vihar Buddhist Chaitya, which is shaped like stupa and the main religious place for the Buddhists living in this area. It is also known as the resting point because during old days, pilgrims used to take rest in this stupa in the journey between Lumbini and Bodh Gaya (India).
You can also explore the Parsa national Park, which is just 33km away from this city. Other tourism sites include Naitale Kali Temple, Ghantagahr (Birgunj) etc. Birgunj is very developed city, so travelers can get access to the 5-star hotels having standard services.
Birgunj Metropolitan City is one of the developed cities in Nepal, which has never failed to surprise its visitors. Be it ethnic diversity or cultural diversity, one can explore the local as well as modernized lifestyle and religion in this city. If the full attention is given, this city can be as equal as Kathmandu and Pokhara.
-Article written by: Kusum Kharel for Land Nepal