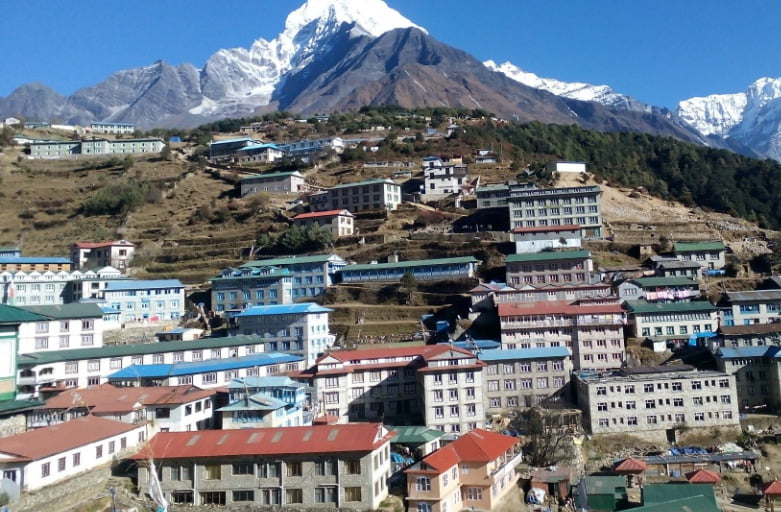 Namche Bazaar, situared at an altitude of around 3500m, is the staging point for expeditions to Everest and other Himalayan peaks in this area. It has developed into a small, colorful market town selling everything from Tibetan artifacts to trekking and climbing equipment and everything you might need during mountain trip. The visitor center at park headquarters has detailed information on various climbs in the area, memorabilia from different mountaineering expeditions, and information on the lifestyle and culture of the Sherpa people.
A historic trading hub, famous for its homemade yak cheese and butter, Namche is situated on the slope of an arch-shaped mountain, with amazing views of giant Himalayan peaks from anywhere in the valley. Once a major trading center of the Khumbu region, Sherpas from neighboring villages and traders from Tibet would gather to barter goods displaying exotic traditional arts and crafts. Despite its prosperity, Namche Bazaar still retains its ancient culture, traditions and heart-warming hospitality.
One of the popular stops along the Everest route, this Sherpa dominated settlement seems to have it all. Besides the usual collection of hotels, restaurants and equipment stores, one can even find a regular pub, cyber cafe and a place to play pool. It is wise to halt here for a couple of days to get acclimatized by walking up and down in the vicinity as acclimatization is a slow process. A visit to Syangboche or some Sherpa villages like Thame, Khumjung and Khunde just a few hours walk from Namche are good options for whiling away your time, which also help you get acclimatized.
Every Saturday morning, Namche Bazaar gears up for the weekly market fair which lights up the place. This fair puts the spotlight on the middle of the town, where traders from Tibet and neighboring villages display their wares and essential goods to attract potential customers.
Now a major gateway to Everest, Namche Bazaar has become a busy tourist hub where climbers and trekkers can do last minute shopping for essentials.