Dhanpalgadhi is located at Belbari Municipality, Kaseni, in Morang district of Nepal. It lies in the Koshi zone of eastern Nepal. It is one of the historical and religious places declared by the Nepal Government. This gadhi (fort) lies in the terai region of Nepal located between forests carrying lots of historical as well as religious evidence. It is about 7.5 KM south from Belbari  and 9 Km east from Netachok at  Biratchowk road.
History of Dhanpalgadhi
Dhanpalgadhi is considered to be the palace of King Dhanpal before 1000 years ago. He used to rule his kingdom through this Gadhi (fort). The name of Gadhi (Fort) is also named after the king. King Dhanpal said to be migrated from Kadamaha to Kaseni. Consequently, we can also observe Dhanpal temple with gate and pond in Kadamaha.
As mentioned by local people near Gadhi, the Dhanpal kings had a very beautiful Daughter. Her name was Fuldevi. She was not just beautiful by physical appearance but also was smart with strength, power, and brain. She was considered as one of the powerful girls during that period. She was built up for the war. She could easily win over men as well.
King used to be very proud of her daughter's strength and power. Therefore, he declared that those who win with his daughter can take her with them. Fuldevi was very beautiful and everyone wanted her. Hearing the announcement by King Dhanpal, prince Allahrudal (Prince of India) agreed for war. But unfortunately, he was defeated. He did not want to lose beautiful Fuldevi, so with the help of a beard saver he cut the neck of the King and took princess Fuldevi with him.
In this way, princess Fuldevi was taken away from Dhanapal. Then after that day no one is allowed to bring blade, razor and scissor  in Dhanpalgadhi. Till now no one takes the instrucement like blade, razor and scissor while visiting Gadhi (fort) to show the honour to king Dhanpal.
According to the evidence, it is said that there were 9 pounds around Gadhi (fort) which was dug by king Dhanpal. Even today we can observe 3 ponds near Gadhi. There is also a Dharmapal temple inside Gadhi where people from Tharu community come to worship. The statue of King Dharmapal sitting in the elephant can also be viewed in the Gadhi.
The Gadhi used to be full of historic tools and gadgets. However, the poor security system of Gadhi leads to the theft of lots of evidence. Not any archeological study has been done till now.
However, now the local government found that the Gadhi is located in a very nice place having lots of potential to attract the visitor. Therefore, Gadhi is now under full security of the local government. The study is being conducted to find out more evidence about this historical and religious place.
On every 10th of Baisakh a great mela (fair) is organized in this place. Lots of people from tharu community and also people from different parts of Nepal attain the fair of Dhanapalgadhi.
Dhanapalgadhi is situated in the middle of dense forest. On the way to Gadhi, we can listen to the mesmerizing sound of birds, sound of running waters, and the shadow of the forest adds more beauty. It can be the best destination for those who want to know the history of kings before 1000 years ago and is also for the nature lover.
-Article Written by: Anita Khatri for Land Nepal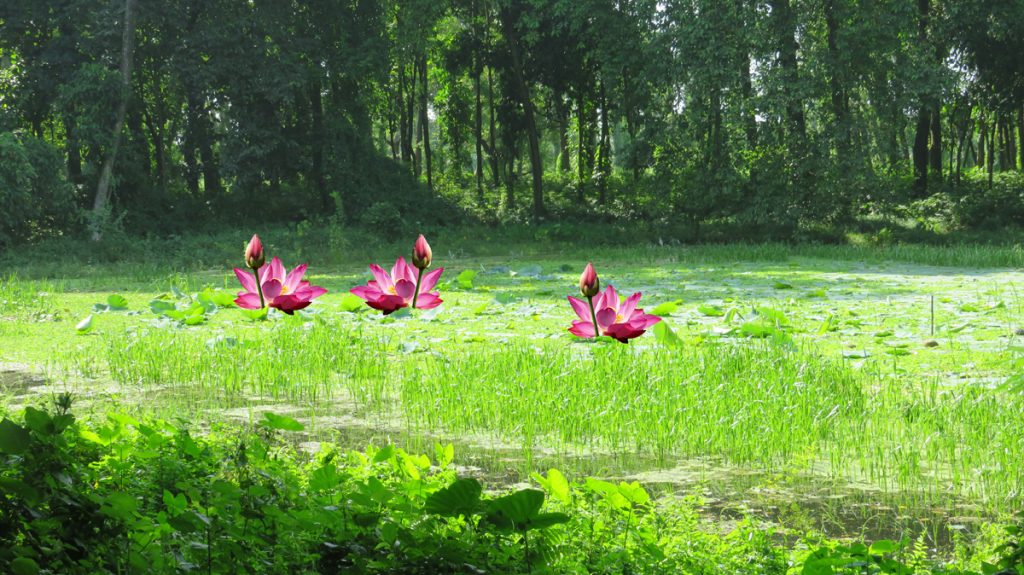 Many historical tools and gadgets has been stolen from here due to poor security system.The detail archeological study has not been done here yet thouh it has many probabibilities of attracting not only internal but also external tourists. In 10th of Baisakh mela(Fair) is organized here.